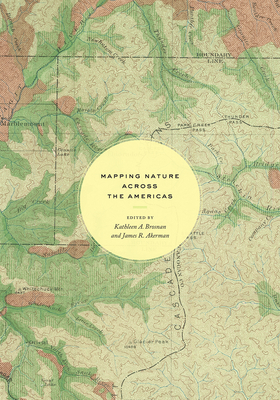 Mapping Nature across the Americas
Publication Date:
October 19th, 2021
Publisher:
University of Chicago Press
The MIT Press Bookstore
1 on hand, as of Nov 30 10:32am
(NATUR)
On Our Shelves Now
Description
Maps are inherently unnatural. Projecting three-dimensional realities onto two-dimensional surfaces, they are abstractions that capture someone's idea of what matters within a particular place; they require selections and omissions. These very characteristics, however, give maps their importance for understanding how humans have interacted with the natural world, and give historical maps, especially, the power to provide rich insights into the relationship between humans and nature over time. That is just what is achieved in Mapping Nature across the Americas. Illustrated throughout, the essays in this book argue for greater analysis of historical maps in the field of environmental history, and for greater attention within the field of the history of cartography to the cultural constructions of nature contained within maps. This volume thus provides the first in-depth and interdisciplinary investigation of the relationship between maps and environmental knowledge in the Americas—including, for example, stories of indigenous cartography in Mexico, the allegorical presence of palm trees in maps of Argentina, the systemic mapping of US forests, and the scientific platting of Canada's remote lands.
Praise for Mapping Nature across the Americas
"You might not expect an atlas to open with the editors declaring that 'maps are inherently unnatural, as Brosnan and Akerman do here. 'Maps are abstractions that capture someone's idea of what matters within a particular place,' they write, pointing out that maps also reflect cultural values of their eras through what they do—and do not—include. This book, featuring essays from a number of scholars, focuses on how early maps depicted the natural world. It turns out they're a valuable source of environmental history. Centuries ago, maps were sometimes aspirational, reflecting what their creators hoped to find, or even 'windows into the geographic imaginations of human beings,' as opposed to faithful depictions of what places were actually like. But even these kinds of inaccuracies have things to tell us. Why do palm trees adorn so many early maps of places where they did not grow? Is there a reason so many Indigenous names for waterways survive in some parts of the American South? What can a late-sixteenth- or early-seventeenth-century map tell us about Aztec agriculture? Mapping Nature explores these questions and more."
— Tina Jordan
"This richly illustrated and carefully edited volume deserves high praise and will be of
great interest to Latin Americanists across the geographical and temporal spectrum... Mapping Nature across the Americas is an excellent and innovative collection
that will be useful to students and scholars throughout the Americas, opening new vistas
and challenging traditional perspectives in a vein similar to the multiple actors from across the social spectrum whom the editors and the volume's contributors so majestically illuminate."
— Longue Duree
"Insightful, provocative, and timely. Brosnan and Akerman have assembled a first-rate team of authors who explore the many and varied ways that maps have been employed to depict natural phenomena and help us navigate in the natural world, as well as, at times, to tell lies—to confuse, exaggerate, obscure, and distort 'reality' on the ground in an effort to manipulate public opinion or to project or maintain political power. The scholarship is outstanding. Mapping Nature across the Americas is a landmark volume that should find a home on the shelf of any social scientist who conducts research at the intersection of nature, culture, and politics, and on how these relationships quite literally are mapped out across space and time."
— Geoffrey L. Buckley, coeditor of "The American Environment Revisited: Environmental Historical Geographies of the United States"
"As Brosnan and Akerman indicate, there is little book-length work in the history of cartography that directly addresses the environment or the natural world explicitly and directly. Yet the connection is—please pardon the pun—a natural one. Mapping Nature across the Americas is an original, welcome addition that, by offering rich and varied case studies, models the many ways to approach the broader theme and should inspire future research in both the history of cartography and environmental history."
— Jordana Dym, coeditor of "Mapping Latin America: A Cartographic Reader"