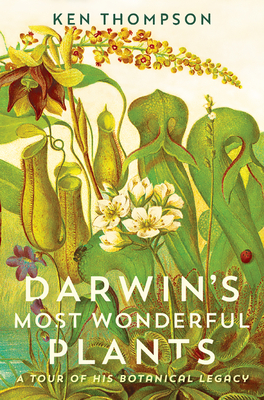 Darwin's Most Wonderful Plants: A Tour of His Botanical Legacy
Publication Date:
October 7th, 2019
Publisher:
University of Chicago Press
The MIT Press Bookstore
1 on hand, as of Dec 8 10:45am
(NATUR)
On Our Shelves Now
Description
For many people, the story of Charles Darwin goes like this: he ventured to the Galapagos Islands on the Beagle, was inspired by the biodiversity of the birds he saw there, and immediately returned home to write his theory of evolution. But this simplified narrative is inaccurate and lacking: it leaves out a major part of Darwin's legacy. He published On the Origin of Species nearly thirty years after his voyages. And much of his life was spent experimenting with and observing plants.
Darwin was a brilliant and revolutionary botanist whose observations and theories were far ahead of his time. With Darwin's Most Wonderful Plants, biologist and gardening expert Ken Thompson restores this important aspect of Darwin's biography while also delighting in the botanical world that captivated the famous scientist. Thompson traces how well Darwin's discoveries have held up, revealing that many are remarkably long-lasting. Some findings are only now being confirmed and extended by high-tech modern research, while some have been corrected through recent analysis.
We learn from Thompson how Darwin used plants to shape his most famous theory and then later how he used that theory to further push the boundaries of botanical knowledge. We also get to look over Darwin's shoulder as he labors, learning more about his approach to research and his astonishing capacity for hard work. Darwin's genius was to see the wonder and the significance in the ordinary and mundane, in the things that most people wouldn't look at twice.
Both Thompson and Darwin share a love for our most wonderful plants and the remarkable secrets they can unlock. This book will instill that same joy in casual gardeners and botany aficionados alike.
Praise for Darwin's Most Wonderful Plants: A Tour of His Botanical Legacy
"A survey of the botanical experimenting and theorizing that occupied Darwin's golden years. This little volume proceeds from Virginia creepers to sundews to orchids to pansies, all as gently as a Sunday garden tour, but with expert evolutionary commentary, and it is garnished by Thompson with some odd facts about plant evolution that Darwin might have considered but didn't. It's a glimpse of Darwin the country squire, Darwin the horticulturalist, an old man pottering in what Thompson calls 'the cabbage patch'—or think of Don Corleone amid the tomatoes."
— New York Review of Books
"In this quietly riveting study, plant biologist Ken Thompson reveals Charles Darwin as a botanical revolutionary."
— Nature
"This is a fascinating insight into the scientist's sheer delight in observing the minutiae of living organisms. Intuitive he may have been, but it was the painstaking hours spent on detailed observation that put him in a position to generate his larger ideas."
— Gardens Illustrated
"In that respect, this volume would be wonderful enough if it was simply an insightful romp through Darwin's botanical experimentising, but what makes it most wonderful is the way Thompson goes beyond Darwin, providing insights from modern research on Darwin's plants (and showing where mysteries remain), as well as recounting fascinating examples of species and phenomena that Darwin never knew, some discovered only recently, but that surely would have delighted the naturalist."
— The Quarterly Review of Biology
"Darwin's Most Wonderful Plants is a thoroughly enjoyable book, copiously illustrated. It is accessible to the interested, lay person but has enough detail for the serious researcher."
— Charles H. Miksicek
"In Darwin's Most Wonderful Plants: A Tour of His Botanical Legacy, an engaging, readable volume, Ken Thompson aims to resuscitate Charles Darwin's reputation as a botanist by guiding readers on a 'tour' through all of Darwin's books about plants."
— Victorian Studies
"When Charles Darwin boarded the HMS Beagle at the age of twenty-three, he thought of himself as a geologist, but when he settled down to domestic life back in rural England, plants began to fascinate him. For Darwin, plants provided the near-at-hand evidence of evolution, and he wrote six books about them. Thompson revisits Darwin's botany, showing us how insightful he was, where (rarely) he was wrong and the marvelous discoveries that have been made since, like a plant with roots that trap small organisms, fern spores that walk, and trees that lean towards the equator. Darwin himself would have loved this book."
— Jonathan Silvertown, author of Dinner with Darwin: Food, Drink, and Evolution
"It is not an easy task to present readers simultaneously with Darwin's wonderful plants and his botanical legacy... Thompson accomplishes this difficult task elegantly. In around 250 pages, he skillfully weaves together Darwin's correspondence and works, the latest botanical discoveries, and his own observations and research, which helps readers both revisit Darwin's botanical experiments and update their knowledge about the inspiration he brought to later researchers."
— Isis