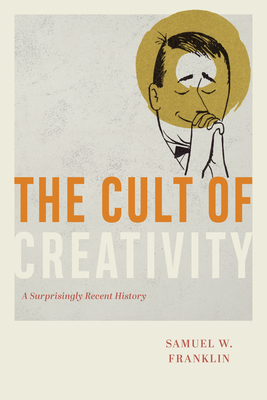 The Cult of Creativity: A Surprisingly Recent History
Publication Date:
April 18th, 2023
Publisher:
University of Chicago Press
The MIT Press Bookstore
2 on hand, as of Dec 7 10:28am
(SS)
On Our Shelves Now
Description
A history of how, in the mid-twentieth century, we came to believe in the concept of creativity.
 
Creativity is one of American society's signature values. Schools claim to foster it, businesses say they thrive on it, and countless cities say it's what makes them unique. But the idea that there is such a thing as "creativity"—and that it can be cultivated—is surprisingly recent, entering our everyday speech in the 1950s. As Samuel W. Franklin reveals, postwar Americans created creativity, through campaigns to define and harness the power of the individual to meet the demands of American capitalism and life under the Cold War. Creativity was championed by a cluster of professionals—psychologists, engineers, and advertising people—as a cure for the conformity and alienation they feared was stifling American ingenuity. It was touted as a force of individualism and the human spirit, a new middle-class aspiration that suited the needs of corporate America and the spirit of anticommunism.
 
Amid increasingly rigid systems, creativity took on an air of romance; it was a more democratic quality than genius, but more rarified than mere intelligence. The term eluded clear definition, allowing all sorts of people and institutions to claim it as a solution to their problems, from corporate dullness to urban decline. Today, when creativity is constantly sought after, quantified, and maximized, Franklin's eye-opening history of the concept helps us to see what it really is, and whom it really serves.
 
Praise for The Cult of Creativity: A Surprisingly Recent History
"In Franklin's account, creativity, the concept, popped up after the Second World War in two contexts. One was the field of psychology. Since the nineteenth century, when experimental psychology (meaning studies done with research subjects and typically in laboratory settings, rather than from an armchair) had its start, psychologists have been much given to measuring mental attributes. . . . The pages Franklin devotes to the contemporary creativity landscape are the freshest and most fun in the book."
— Louis Menand
"Where did the concept of creativity come from? And why is it valued so highly? One answer is posited by Franklin's provocative new book. . . . Franklin cogently argues that creativity became a buzzword because it was a way to retool white-collar workers for a service economy—one that rewarded branding, research and development instead of Fordian manufacturing. . . . His book is an antidote for anyone who has sat, pen in hand, struggling to locate their "divine muse.'"
— The Economist
"As historian Franklin notes in his forthcoming book The Cult of Creativity, the concept [of creativity] gained much of its cultural currency in the mid-20th century, when executives and other leaders tried to stimulate creativity in hopes of churning out better ad spreads and new technologies. With these titans' encouragement, Americans began to see creativity as a virtuous end in itself, buying into the promise that expanding our creative abilities could fulfill us individually and secure our collective future."
— Boston Globe
"The Cult of Creativity comes at a technological turning point. The emergence of generative-AI tools has given us the option of outsourcing our brainstorming, becoming prompt engineers to idea-spitting machines. . . . In Mr. Franklin's idealistic scenario of the future, we will redirect our energy away from producing more disruptive innovations and toward a thoughtful consideration of 'what should be produced in the first place.' World-saving ideas and technologies are still needed—whether they result from creative thinking or not—but 'the space to question the goodness of the new,' Mr. Franklin suggests, might be 'the big idea we need right now.'"
— Wall Street Journal
"Franklin challenges the notion that creativity is a trait that can be cultivated and unleashed by virtually anyone. . . . He proposes a nuanced and critical approach to the study of creativity, one that recognizes its complexity, diversity, and context-dependence. In doing so he offers a nicely written and well-researched book that casts a fresh and insightful perspective on a controversial topic. . . . Summing Up: Recommended. All readers."
— CHOICE
"What Franklin leaves us with is a thought-provoking reevaluation of a celebrated societal value marbled with contradictions. All told, The Cult of Creativity is lucid, fresh and illuminating. If you need more adjectives than that, you'll have to brainstorm them yourself."
— NewCity
"Franklin's well-researched book on the young history of the word 'creativity' has simultaneously turned out to be a chronicle of the morals and values ruling post-war America – and implicitly many other Western countries. Its pleasant style and the many well-chosen quotations from the creativity literature, helped by the mildly critical tone, make for insightful and entertaining reading." 
— Leonardo
"As the subtitle of Franklin's book suggests, the highly valued quality we call 'creativity'—so ubiquitous today as to seem universal and timeless—is actually quite new. Franklin tells a story of psychologists, scholars, business management 'gurus,' ad men, education policymakers, artists, and engineers who together reified creativity as immanently versatile, a trait both inherent to the individual and developable at scale. . . . It turns out the taken-for-granted virtue of creativity is yet another dubious invention of midcentury cold war and a product of academia's collusion with industry."
— Public Books
"The Cult of Creativity is a beautifully written and well-documented account of how creativity gained the societal value it has today. Franklin reveals the powerful social construction at work behind the meaning of creativity and reminds us that such ideas have historical roots, as well as a more sinister side that should concern us all. Through engaging storylines, he builds a complex picture that is captivating to discover, piece by piece."
— Vlad Glaveanu, author of Wonder: The Extraordinary Power of an Ordinary Experience
"Celebrated and sought-after, 'creativity' is often presented as the magic yet ineffable elixir for fame and fortune by today's artists, technologists, and business leaders. And yet—until Samuel Franklin's marvelous new book—it has been little studied as a historical phenomenon. The Cult of Creativity examines how, after World War II, a fascinating ensemble of psychologists, advertising executives, and other assorted gurus attempted to explain and quantify human ingenuity. The result is an insightful and delightful exploration into how we think about technology, capitalism, and consumerism."
— W. Patrick McCray, author of Making Art Work: How Cold War Engineers and Artists Forged a New Creative Culture
"The Cult of Creativity presents an exceptionally lucid look at the various ideas, doctrines, and programs behind the concept of creativity. Through keen analysis, Franklin brings together scholarship from a range of sources to frame this powerful social and cultural critique."
 
— Howard Brick, author of Transcending Capitalism: Visions of a New Society in Modern American Thought