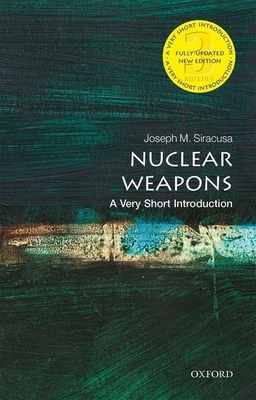 Nuclear Weapons: A Very Short Introduction (Very Short Introductions)
Publication Date:
December 1st, 2020
Publisher:
Oxford University Press, USA
Usually Ships in 1 to 5 Days
Description
Nuclear weapons have not been used in anger since the United States dropped atomic bombs on Hiroshima and Nagasaki in August 1945. Yet even after the Cold War, the Bomb is still the greatest threat facing humankind. As President Bill Clinton's first secretary of defence, Les Aspin, put it: 'The Cold War is over, the Soviet Union is no more. But the post-Cold War world is decidedly not post-nuclear.' For all the efforts to reduce nuclear stockpiles, the Bomb is here to stay.
This Very Short Introduction looks at the science of nuclear weapons and how they differ from conventional weapons. Tracing the story of the nuclear bomb, Joseph Siracusa chronicles the race to acquire the H-bomb, a thermonuclear weapon with revolutionary implications; and the history of early arms control, nuclear deterrence, and non-proliferation. He also tracks the development of nuclear weapons from the origins of the Cold War in 1945 to the end of Moscow-dominated Communism in 1991, and examines the promise and prospect of missile defence, including Ronald Reagan's 'Star Wars' and George W. Bush's National Missile Defence. This third edition includes a new chapter on the development of nuclear weapons and the policies they have generated since the end of the Cold War.
ABOUT THE SERIES: The Very Short Introductions series from Oxford University Press contains hundreds of titles in almost every subject area. These pocket-sized books are the perfect way to get ahead in a new subject quickly. Our expert authors combine facts, analysis, perspective, new ideas, and enthusiasm to make interesting and challenging topics highly readable.