Discounted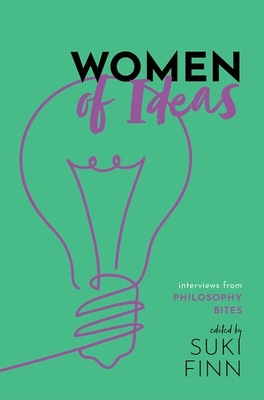 Women of Ideas: Interviews from Philosophy Bites
Previous price:

$13.99
Current price:

$12.95
Publication Date:
July 1st, 2021
Publisher:
Oxford University Press, USA
The MIT Press Bookstore
2 on hand, as of Nov 29 10:27am
(PHILO)
On Our Shelves Now
Description
Thirty leading women philosophers draw on and advance the rich heritage of the philosophical tradition to explore topics of pressing interest for today.
Women of Ideas is edited by Suki Finn, based upon interviews by David Edmonds and Nigel Warburton, from Philosophy Bites, the world's foremost philosophy podcast. These conversations illuminate diverse aspects of being human: personal, social, ethical, and political. The contributors discuss the relations between humans and animals, between genders, between tastes, between cultures, and between nations. They look at some of the things that are wrong with our world, such as injustice, deprivation, and bias; they consider the role of civility, trust, and consent in our interactions. There are reflections on the history of philosophy from Plato to Beauvoir, comparisons between Western philosophy and Buddhist philosophy, and discussion of philosophy in Africa. The volume concludes by investigating how philosophy works, how it makes progress, and its role in public life. Anyone interested in philosophical reflection on themselves and our world will find much to stimulate them here.
About the Author
Edited by Suki Finn, Lecturer in Philosophy Royal Holloway, University of LondonSuki Finn is a Lecturer in Philosophy at Royal Holloway, University of London. She researches in the areas of metametaphysics, the philosophy of logic, the metaphysics of pregnancy, the epistemology of love, and feminist and queer theory. Suki has published her work in various philosophy journals, edited collections, and in the online magazine Aeon. Women of Ideas is Suki's first book. Suki is on the Executive Committee for the Society for Women in Philosophy UK, and on the Council for the Royal Institute of Philosophy. In her other life, Suki is a musician. David Edmonds is the author or editor of a dozen philosophy books including The Murder of Professor Schlick, Would You Kill the Fat Man?, the children's novel (with Bertie Fraser) Undercover Robot, and (with John Eidinow) the international best-seller Wittgenstein's Poker. He is a BBC presenter/producer and a Distinguished Research Fellow at the Oxford Uehiro Centre for Practical Ethics. He and Nigel Warburton founded Philosophy Bites in 2007. On Twitter he is @DavidEdmonds100. Nigel Warburton is a freelance philosopher, and consultant editor for the online magazine Aeon and for the Five Books website. He was formerly a university philosophy lecturer for over twenty years. His books include A Little History of Philosophy, Philosophy: The Basics, Philosophy: The Classics, Thinking from A to Z, The Art Question, and Free Speech: A Very Short Introduction. With David Edmonds he makes the podcast Philosophy Bites and they have already jointly edited three books based on the series. On Twitter he is @philosophybites.