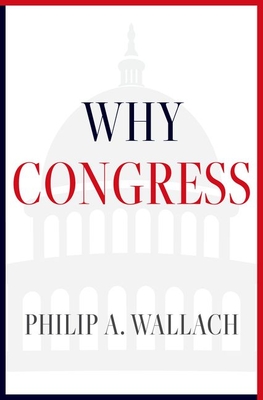 Why Congress
This product is not returnable.
Publication Date:
May 30th, 2023
Publisher:
Oxford University Press, USA
The MIT Press Bookstore
2 on hand, as of Dec 8 10:45am
(POLSI)
On Our Shelves Now
Description
A bold defense of our nation's legislature and its ability to work through the country's deepest divisions, and a stark warning of what our political future holds if we allow Congress to decay.
Like it or not, our country's future depends on Congress. The Founding Fathers made a representative, deliberative legislature the indispensable pillar of the American constitutional system, giving it more power and responsibility than any other branch of government. Yet today, contempt for Congress is nearly universal. To a large extent, even members of Congress themselves are unable to explain and defend the value of their institution.
Why Congress takes on this challenge squarely, explaining why our increasingly divided politics demand a legislature capable of pitting factions against each other and forcing them to work out accommodations. This book covers the past, present, and future of the institution to understand how it has become so dysfunctional, but also to suggest how it might be restored. The book vividly shows how a healthy Congress made it possible for the country to work through some of its most difficult challenges, including World War II and the struggle for civil rights. But transformations that began in the 1970s ultimately empowered congressional leaders to suppress dissent within their own parties and frame a maximally divisive agenda. In stark contrast to the earlier episodes, where legislators secured durable political resolutions, in facing contemporary challenges, such as immigration and COVID-19, Congress has exacerbated divisions rather than searching for compromises with broad appeal. But Congress' power to organize itself suggests a way out. Wallach deftly explains that while Congress could accept its descent into decrepitude or cede its power to the president, a Madisonian revival of deliberation can yet restore our system of government's ability to work through deep divides.
About the Author
Philip A. Wallach is a senior fellow at the American Enterprise Institute (AEI), where he studies America's separation of powers, with a focus on regulatory policy issues and the relationship between Congress and the administrative state.