Discounted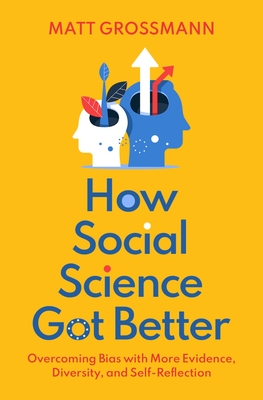 How Social Science Got Better: Overcoming Bias with More Evidence, Diversity, and Self-Reflection
Previous price:

$32.99
Current price:

$29.95
Publication Date:
September 6th, 2021
Publisher:
Oxford University Press, USA
Usually Ships in 1 to 5 Days
Description
It seems like most of what we read about the academic social sciences in the mainstream media is negative. The field is facing mounting criticism, as canonical studies fail to replicate, questionable research practices abound, and researcher social and political biases come under fire.
In response to these criticisms, Matt Grossmann, in How Social Science Got Better, provides a robust defense of the current state of the social sciences. Applying insights from the philosophy, history, and sociology of science and providing new data on research trends and scholarly views, he argues that, far from crisis, social science is undergoing an unparalleled renaissance of ever-broader understanding and application. According to Grossmann, social science research today has never been more relevant, rigorous, or self-reflective because scholars have a much better idea of their blind spots and biases. He highlights how scholars now closely analyze the impact of racial, gender, geographic, methodological, political, and ideological differences on research questions; how the incentives of academia influence our research practices; and how universal human desires to avoid uncomfortable truths and easily solve problems affect our conclusions. Though misaligned incentive structures of course remain, a messy, collective deliberation across the research community has shifted us into an unprecedented age of theoretical diversity, open and connected data, and public scholarship.
Grossmann's wide-ranging account of current trends will necessarily force the academy's many critics to rethink their lazy critiques and instead acknowledge the path-breaking advances occurring in the social sciences today.
About the Author
Matt Grossmann is Director of the Institute for Public Policy and Social Research and Professor of Political Science at Michigan State University. He is also Senior Fellow at the Niskanen Center and a Contributor at FiveThirtyEight. He has published analysis in The New York Times, The Washington Post, and Politico and hosts the Science of Politics podcast. He is the author or coauthor of many books, including Asymmetric Politics, Red State Blues, The Not-So-Special Interests, Artists of the Possible, and Campaigns & Elections, as well as dozens of journal articles.