Discounted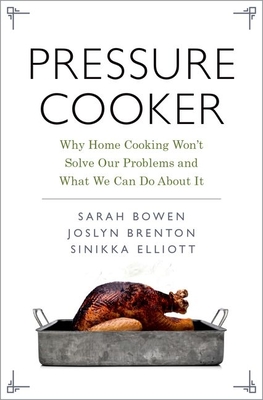 Pressure Cooker: Why Home Cooking Won't Solve Our Problems and What We Can Do about It
Previous price:

$26.99
Current price:

$24.95
Publication Date:
March 1st, 2019
Publisher:
Oxford University Press, USA
The MIT Press Bookstore
1 on hand, as of Nov 30 10:32am
(GAST)
On Our Shelves Now
Description
Food is at the center of national debates about how Americans live and the future of the planet. Not everyone agrees about how to reform our relationship to food, but one suggestion rises above the din: We need to get back in the kitchen. Amid concerns about rising rates of obesity and diabetes, unpronounceable ingredients, and the environmental footprint of industrial agriculture, food reformers implore parents to slow down, cook from scratch, and gather around the dinner table. Making food a priority, they argue, will lead to happier and healthier families. But is it really that simple?
In this riveting and beautifully-written book, Sarah Bowen, Joslyn Brenton, and Sinikka Elliott take us into the kitchens of nine women to tell the complicated story of what it takes to feed a family today. All of these mothers love their children and want them to eat well. But their kitchens are not equal. From cockroach infestations and stretched budgets to picky eaters and conflicting nutrition advice, Pressure Cooker exposes how modern families struggle to confront high expectations and deep-seated inequalities around getting food on the table.
Based on extensive interviews and field research in the homes and kitchens of a diverse group of American families, Pressure Cooker challenges the logic of the most popular foodie mantras of our time, showing how they miss the mark and up the ante for parents and children. Romantic images of family meals are inviting, but they create a fiction that does little to fix the problems with the food system. The unforgettable stories in this book evocatively illustrate how class inequality, racism, sexism, and xenophobia converge at the dinner table. If we want a food system that is fair, equitable, and nourishing, we must look outside the kitchen for answers.
About the Author
Sarah Bowen is Associate Professor of Sociology at North Carolina State University. Her work focuses on food systems, local and global institutions, and inequality in the United States, Mexico, and France. She is author of Divided Spirits: Tequila, Mezcal, and the Politics of Production (2015). Joslyn Brenton is an Associate Professor of Sociology at Ithaca College. Her research focuses on the sociology of health and illness, with a particular focus on how mothers of young children think about food, health, and the body. Sinikka Elliott is Associate Professor of Sociology at the University of British Columbia where she researches and teaches on the topics of gender, sexuality, inequality, and family. She is the author of Not My Kid: What Parents Believe about the Sex Lives of Their Teenagers.