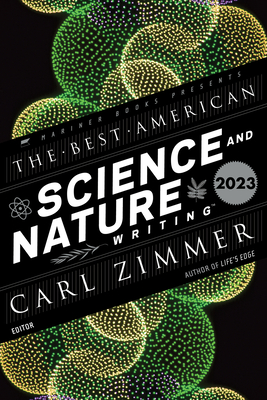 The Best American Science and Nature Writing 2023
Publication Date:
October 17th, 2023
Usually Ships in 1 to 5 Days
Description
Award-winning writer, columnist, and journalists Carl Zimmer selects twenty science and nature essays that represent the best examples of the form published in 2022.
 "What's most compelling about a scientific story is the way it challenges us to think about the concepts we take for granted," writes guest editor Carl Zimmer in his introduction. The essays in this year's Best American Science and Nature Writing probe at the ordinary and urge us to think more deeply about our place in the world around us. From a hopeful portrait of a future for people with Alzheimer's disease, to a fascinating exploration of the rise of nearsightedness in children, to the heroic story of a herd of cows that evaded a hurricane, these selections reveal how science and nature shape our everyday lives. With tremendous intelligence, clarity, and insight, this anthology offers an expansive look at where we are and where we are headed.
The Best American Science and Nature Writing 2023 includes JESSICA CAMILLE AGUIRRE • VANESSA GREGORY • SABRINA IMBLER FERRIS JABR • MARION RENAULT • ELIZABETH SVOBODA NATALIE WOLCHOVER • SARAH ZHANG and others  
Praise for The Best American Science and Nature Writing 2023
"Captivating. . . . The contributors showcase science journalism's capacity to educate while entertaining, and the timely bent of the selections gives the collection a sense of urgency. . . . Readers will be enthralled."
— Publishers Weekly (starred review)