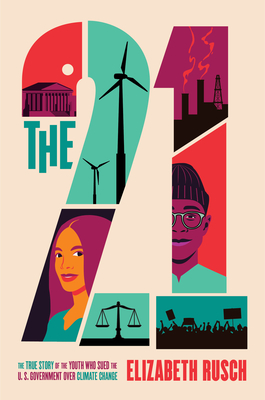 The Twenty-One: The True Story of the Youth Who Sued the U.S. Government Over Climate Change
Publication Date:
September 26th, 2023
Publisher:
Greenwillow Books
The MIT Press Bookstore
1 on hand, as of Dec 8 10:45am
(JR:YA)
On Our Shelves Now
Description
Compelling and timely, award-winning author Elizabeth Rusch's The Twenty-One tells the gripping inside story of the ongoing landmark federal climate change lawsuit, Juliana vs. United States of America. The Twenty-One is for readers of Christina Soontornvat's All Thirteen, fans of Steve Sheinkin's books, and anyone interested in the environment and climate change, as well as youth activism, politics and government, and the law.
From severe flooding in Louisiana to wildfires in the Pacific Northwest to melting permafrost in Alaska, catastrophic climate events are occurring more frequently—and severely—than ever. And these events are having a direct impact on the lives (and futures) of young people and their families.
In the ongoing landmark case Juliana vs. United States, twenty-one young plaintiffs claim that the government's support of the fossil-fuel industry is actively contributing to climate change, and that all citizens have a constitutional right to a stable climate—especially children and young adults, because they cannot vote and will inherit the problems of the future.
Elizabeth Rusch's The Twenty-One is a gripping legal and environmental thriller that tells the story of twenty-one young people and their ongoing case against the U.S. government for denying their constitutional right to life and liberty. A rich, informative, and multifaceted read, The Twenty-One stars the young plaintiffs and their attorneys; illuminates the workings of the United States's judicial system and the relationship between government, citizens' rights, and the environment; and asks readers to think deeply about the future of our planet.
Features extensive backmatter, including a timeline, glossary, call to action, additional resources, and photographs.
Praise for The Twenty-One: The True Story of the Youth Who Sued the U.S. Government Over Climate Change
"In Juliana v. United States, 21 plaintiffs ages 8 to 19 sued the federal government for undermining their constitutional rights to a safe and healthy environment. . . . This taut, quick-moving story told in short, lively chapters employs novelistic suspense and focuses effectively on people and their experiences as much as on principles. . . . Rusch acknowledges the distinct roles of individuals, the impact of economic systems, and the overarching power of government. . . . Rigorously researched, this work offers a clear summary of a complex and critically important lawsuit." — Kirkus Reviews (starred review)
"An account of twenty-one kids who, with the help of nonprofit law firm Our Children's Trust and lawyer Julia Olson, sued the U.S. government over its lack of response to climate change. . . . Clarifications from lawyers and judges help make the dizzying processes of how the federal legal system works accessible. Meanwhile, vivid descriptions of wild storms, heat waves, and devastating forest fires emphasize the mounting urgency. . . . The groundbreaking accomplishments of the Twenty-One are celebrated, as is the work of young climate control activists around the world. . . . Inspiring." — Booklist (starred review)
"Legal buffs and climate activists will appreciate this complex and detailed journey through the U.S. court system. . . . Ranging in age from eight to nineteen, the plaintiffs' argument was based on the fact that they had suffered ­numerous problems due to climate change, and since they were too young to vote, had no other legal recourse but to sue. . . . The passion and determination of the plaintiffs and their lawyer are ­awe-inspiring. . . . With its legal focus, this makes a compelling and important addition to the growing body of climate change literature for teens."­ — School Library Journal
"Following the groundbreaking case of Juliana v. the United States, Rusch highlights the actions of the twenty-one passionate teens and tweens who sued the U.S. government over climate change. Rusch employs rigorously researched, plainspoken prose to break down the case into four parts that chronicle it from its initial filing in 2015 to its current status as unresolved in the court system. . . . The case—which has lasted through three presidencies—could force the U.S. government to move immediately on climate change." — Publishers Weekly
"Rusch does a marvelous job of weaving together multiple strands into a compelling and timely narrative: an inspiring and empowering story of youth activism, a primer on the role of the judicial branch in our democracy, and a cautionary tale about the mounting dangers of climate change." — Horn Book Magazine