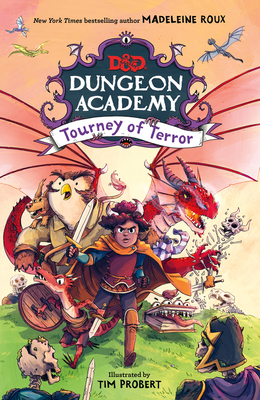 Dungeons & Dragons: Dungeon Academy: Tourney of Terror
Publication Date:
November 1st, 2022
Usually Ships in 1 to 5 Days
Description
From New York Times bestselling author Madeleine Roux and acclaimed artist Tim Probert comes the second installment in the original Dungeons & Dragons middle grade series!
In the second installment of the Dungeon & Dragons middle grade series, something BIG has come knocking on the gates of Dungeon Academy! The undefeated Waterdeep Dragons have arrived for the Tourney of Terror games, which happens every fifty years and features every monster's favorite sport: Goreball!
The Dungeon Academy Flumphs are outnumbered, outsized, and outmonstered! But our hero, Zelli Stormclash (a forbidden human, secretly disguised as a minotaur), is no stranger to impossible odds. Just a few weeks ago, Zelli and her crew, the Danger Club, came face-to-face with a maniacal necromancer and his army of undead! 
If this wasn't enough to raise scales Zelli's reoccurring nightmare of a dark entity annihilating her world may be more than just a bad dream. Something sinister is lurking in the halls of the academy, and only Zelli seems to notice. But when Zelli uncovers a dark past hidden beneath Dungeon Academy, she unlocks something that will concern everyone at school, every dragon at Waterdeep, and everything within the Forgotten Realms.
Get ready for humor, heart, magic, and adventure as middle graders and beyond learn to embrace who they are, accept others' differences, and discover the hidden secrets that dwell deep within themselves, and within Dungeon Academy!
Praise for Dungeons & Dragons: Dungeon Academy: Tourney of Terror
The action delivers on epic battles (especially against skeletal foes), and the storyline gives the characters real stakes and costs along with solid twists, all fitting seamlessly into the humorous Dungeons & Dragons setting. — Kirkus Reviews