Discounted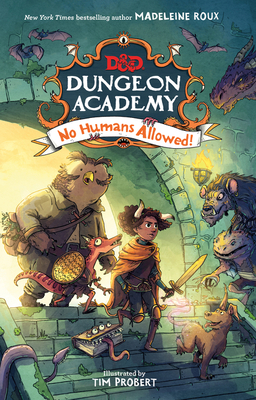 Dungeons & Dragons: Dungeon Academy: No Humans Allowed!
Previous price:

$15.99
Current price:

$12.99
Publication Date:
November 2nd, 2021
Usually Ships in 1 to 5 Days
Description
From New York Times bestselling author Madeleine Roux and acclaimed artist Tim Probert comes an all-new original Dungeons & Dragons middle grade series!
Welcome to Dungeon Academy, where monsters and creatures train for the dark world that awaits just beyond the dungeon walls! But Zellidora "Zelli" Stormclash is a bit—different. She's the one thing monsters and creatures of the Forgotten Realms fear the most: Zelli is a human!
Knowing she'll never be accepted, Zelli's parents disguise her as a minotaur in hopes she'll blend with the academy's monstrous surroundings. Zelli does her work, keeps to herself, and becomes "invisible" to everyone. 
While in History of Horrible Humans class, Zelli learns of the great human adventurer, Allidora Steelstrike, who oddly resembles her. Could Zelli also be a Steelstrike? Seeking answers to her true lineage, Zelli embarks on a dangerous adventure.
But she won't be alone. A vegan owlbear, a cowardly kobold, and a shapeshifting mimic will join Zelli on her quest for truth in a world that holds no place for them. And who knows? Perhaps these monstrous misfits may discover some truths of their own . . .
Get ready for humor, heart, magic, and adventure as middle graders and beyond learn to embrace who they are, accept others' differences, and discover that making mistakes is OK—as long as you learn from them.